The ageless legend of years, the pupil of strategy lovers and the cult game Civilization 6 began to be in demand after it was free on the Epic Store. Let people's search for the Civilization 6 Turkish patch come to an end. Your searches for Civilization 6 turkish patch or Civilization VI turkish patch may be inconclusive. With all the details and installation, I am telling you the Civilization 6 Turkish patch production in this article.
After the Civilization 6 live broadcast on my Twitch channel, viewers started to ask how I did the Civilization 6 Turkish patching process and how most of the game was in Turkish without any problems. Let me start telling you right away:
Civilization 6 Turkish Patch Pre-Finish
First, in order for the Turkish patch installation to be healthy, we find the folder where the game is installed. If you downloaded the game from the Epic Store, you can check the default save folder. If you don't know how to look at it, the following visuals will be useful.
We Begin the Patching Process
After identifying the above-mentioned folders, let's go to the relevant directory.
Let's Find the Right Folder for Turkish Patching
I have this folder in the D:/Epic Games folder.
In the Epic Games folder, we enter the SidMeiersCivilizationVI folder from the games section.
We find the Base Folder in this Folder and enter the Assets folder in it.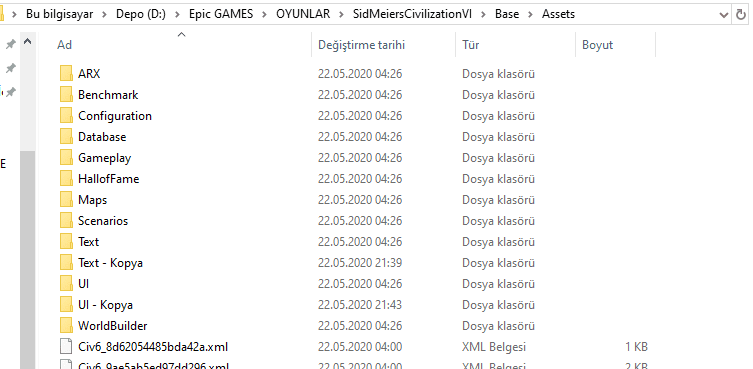 Let's back up the original Files
Here we do the MOST IMPORTANT ACTION: Taking a backup! We make a backup of the game's original files. But which ones?
We copy the TEXT and UI folders to where they are.
We are ready for Civilization Turkish Patch Process. I think you will understand better by seeing the next process from here. I share a video narration below.
Civilization 6 Turkish Patch Files : https://drive.google.com/file/d/1SZV7YHv0ROn8e66i6QmuWTh5wbWJ8LuC/view?usp=sharing
Edit: I'm leaving alternate links down because the link is stuck in the limit